Land for sale in Orcheta, Spain (Ref. T 1)
A rural plot of 20,000m2 situated on the outskirts of Orcheta, the plot offers easy access to the three surrounding villages of Orcheta, Finestrat and Relleu, there is permission to build a property of up to 2% surface occupancy. Ideal for a villa or a country cottage type property or even a log cabin, very easy access from the entry road, paperwork is available for those who have interest and the council are aware of its situation and will give all legal permissions necessary, there are already other properties in the same area. Great views and a peaceful location, sensibly priced for a quick sale.
Area & price
Area
20000 m2
Price
45.000 €

Sales information
Tel. 672 000 869
Telf. 96 685 53 13
Environment
The Costa Blanca (Spain) takes in the corresponding coast line of the province of Alicante which is recognized as the Mediterranean. The Mediterranean sea bathes a land full of light and enjoys an exceptional climate throughout the whole year. From Denia through to Pilar de la Horadada it is possible to take advantage of the finest touristic infrastructures, spectacular country side and a varied range of cuisine, popular fiestas, sports, culture and many other amenities.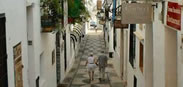 Home finder