Altea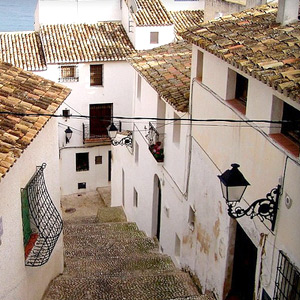 Altea is situated in between the bays of Albir and Morro Del Toix in what is known as the Marina Baixa which is a distance of approximately 50km from Alicante and only 10km from Benidorm.
This town offers the tourist a symbolic image of the Costa Blanca carved in to a bay situated between sea and mountain.
The municipal area of this town extends down through a hill side and finishes in the Mediterrenean sea. Small bays and beaches can be found all along the coast line which protect in a romantic way the urban area of this town.
Altea boasts 6 km of coast line made up of cliffs and small bays. Adjoining the urban sector one will find the Roda beach. To the south one will find what is the major beach for the town of Cap Blanch which runs in to the northern beach of Abir known as Cap Negret, these are pebble beach's which culminate in a small bay called Cala del Soio. Altea finishes off at the point of Mascarat and the Sierra Bernia where one can find small pebbled bays such as La Barreta, La Solsida and La Galera.
The Blue church tower of geometric design is one of the most symbolic points on the Costa Blanca. Altea itself is situated on top of a small mountain where the church is perched on top. The picturesque old town of Altea give this area a special atmosphere. With old cobbled streets, narrow and long stretching out in to little squares.
At the foot of the Sierra Bernia mountains and Altea one will find Altea La Vella a small tiny village with a road way leading through the center which will take you through areas of conifers. The area of Sierra Bernia and its fresh water fountain area of Font de Garroferet or its old fortress are great reasons to take excursions to these areas.
In construction

Azure Altea Homes, a gated community with private access and surveillance cameras comprising five magnificent modern homes, spread over 2 floors with solarium-barbecue, parking for several vehicles... [Read more]

Apartment in Altea (Ref. AP142A)

In construction

Ocean Suites Altea is a private development of 13 extraordinary luxury apartments with stunning views located in one of the most coveted and privileged areas of the Sierra de Altea. Equipped with spec... [Read more]
Photograph by xavi300 under a Creative Commons license

Sales information
Tel. 672 000 869
Telf. 96 685 53 13
Environment
Home finder